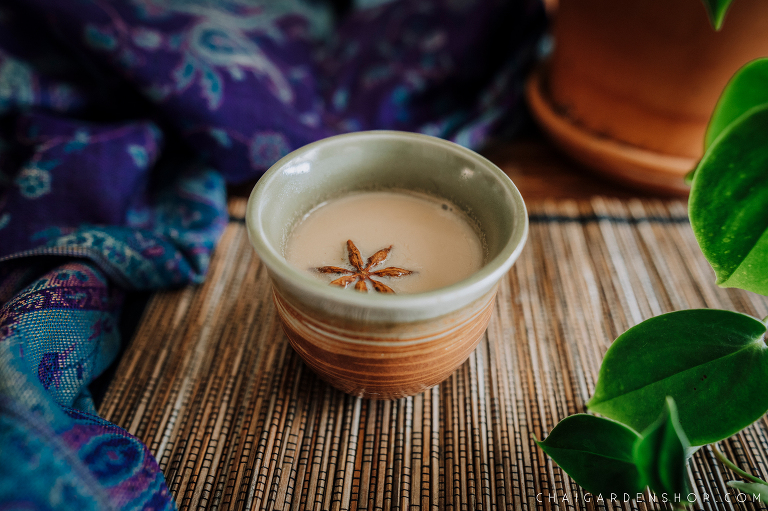 This fragrant, spicy, delicious drink is great for your health! Some well-known advantages of this tea include that it helps boost heart health, reduces blood sugar levels, aids in digestion and weight loss, alleviates nausea, and improves the immune system. Below are the specific ingredients used in our "Simply Chai," and their health improving qualities.
Organic Darjeeling tea: the finest tea in India, of rich, full-bodied flavor. Harvested from a naturally forested tea garden in the mountains of Northern India.
Organic Cloves: supports digestion, aids with pain relief, antibacterial action, supports circulation
Organic Star Anise: improves digestion, high in antioxidants, boosts immune system
Organic Cardamom: cleanses organs, improves circulation, detoxes kidneys
Organic Cinnamon bark: stimulates circulation, aids in digestion, regulates blood sugar, relieves bloating
Organic Ginger root: improves digestion, high in antioxidants, boosts immune system
Organic Black Pepper: supports digestion, high in antioxidants, enhances bioavailability of other herbs and spices to maximize nutritional benefits
Organic Nutmeg: boosts bone health, improves digestion, reduces inflammation, eliminates bad breath
Precautions:
We recommend that you consult with a qualified healthcare practitioner before using herbal products, particularly if you are pregnant, nursing, or on any medications. This information is not intended to diagnose, treat, cure, or prevent any disease.